Events

March 6 - Ghana's 60th Independence Anniversary in France !

March 4 : Dance with Obi Nka Obi et Kofi Ansah

APAE events in March

February 3 : KYEKYEKU in PARIS !
Kyekyeku and his group "5 Days No Light-Off" revisit with happiness the very popular ghanaian musical styles: highlife, palm-wine music and afrobeat. Considered by CNN as a "magician of the guitar", Kyekyeku also sees himself as a social chronicler of Africa today.



February 3, 2017

at Bab'Ilo

9, rue du baigneur, Paris


Metro Lamarck-Caulaincourt, Marcadet-Poissonniers, Château Rouge or Jules Joffrin

More details on Kyekyeku, click here

Ghana and West Africa dance courses in the Bordeaux region, jump on your feet !

Special event : Strasbourg Ghanaian Cultural Week !

Come and discover GHANA with SANKOFA ! 6th February near Versailles, come in numbers !

Salon du Chocolat 2015 at Paris : come and taste Ghana best flavours !

Location
Porte De Versailles, Paris
Be sure to visit the Ghana stand, the home of Premium Cocoa!
7th March, come in your numbers to celebrate GHANA's 58th year of Independence in Paris & Toulouse !!
King Ayisoba in France : come and discover such a special artist !
21st March at St Brice (95)
February 2015 - Let's dance in Ghana with Clément !

January 2015 : Maxwell Osei-Abeyie exhibition in Paris !
GHANA YOUTH DAY in PARIS, don't miss it !!

Ghana's Republic Day & Night of Highlife, great Summer made in Ghana !

7th May at Sarcelles (95) : election of Miss Ghana in France, run and book your seats !
March events, between France and Ghana !



Ghana 57 years of independance
Dream Child Concert in Accra, featuring the french flutist Sabine Boyer

Charity Day of the 'Association Préparons l'Avenir de nos Enfants'

'
« The youth of today have got much to say ... » -> Invitation Invitation Invitation

Information and Preparation Meeting
Come all of you, and bring your friends !

There will be refreshment after the meeting.
February 2014 - Dance with Clément in Ghana !!

23rd March at St Brice (95)

1st to 15th March - Dance Workshop in Ghana with "Entre-Nous"

Joe BIG-BIG : great work on exhibition ...
... at la Flèche (72), until 24th March 2013
Wednesdays : 10am-12am and 2.30pm-5.30pm; Saturdays : 2.30pm-5.30pm; Sundays : 10am-1pm and 2.30pm-5.30pm.
Entrance free. Other artists : B. CLARKE - O. SULTAN - N. Douts - N. Marenga
... and also in Seine-et-Marne, at Moissy Cramayel (till 13th March) and Lieusaint (till 02nd March)
3rd March at Pierrefitte (93) : Ghana celebrates 55 years of independence !

St Brice sous forêt (95) : next two solidarity events of Mary Amoako's "Association Préparons l'Avenir de nos Enfants" APAE
June !



Joe BIG-BIG
African sculptures
at Dammarie-les-Lys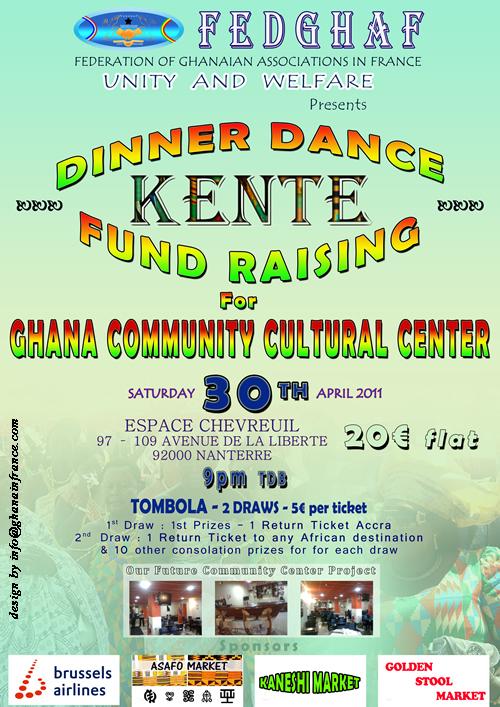 12th April : Ghana vibes in Figeac (Lot), Gospel & Ghana Night for the school of Batabi !

18 March : Ruff-n-Smooth in Paris !

Dance in Ghana with Entre-Nous, far from the French cold...

Hot Christmas in France with Miss Ghana France 2011 contest (Paris) and the Ghanaian Christmas Party (Lyon) !
Cenon (33) - November 26th : come and meet Ghana with its wonderful smiles at "BATABI 2010" special evening !
A team of volunteers started building Batabi's nursery last Summer, led by Michèle-Akua's vibrant energy, which next challenge is now to finish this project and start collecting funds for the future "Guest-House" (or volunteers house). Michèle and her friends expect you to come in numbers !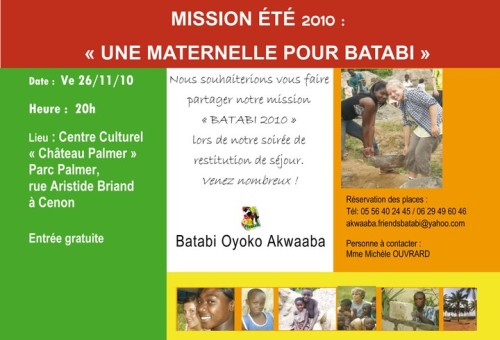 More info on : http://batabioyokoakwaaba.asso-web.com/
A new franco-ghanaian association in France : "Children of Hope " !

Ghana Black Stars to play in France !