Toulouse 2008 'MANDELA Football Tournament'
Ghana plays Senegal for the third position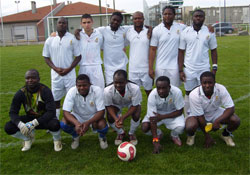 Last Saturday 24th May, 2008 the local Ghanaian football team of Toulouse (the Sankofa Flying Comets) played against the local Guinea team on the Marcel-Sarcos stadium of Toulouse. This was a semi final match of the 2008 MANDELA Football Tournament, an annual football competition regrouping local African football teams at Toulouse to foster unity and solidarity among the African communities. The Ghana team lost by 1 goal to 2 and is therefore consigned to play, coming Saturday 31st May, 2008 for the consolation third position.
The finals phase of this year's MANDELA Football Tournament of Toulouse grouped 8 local African teams into 2 groups. The Ghana team arrived at the semi final stage after attaining 10 points, from a six home and away matches, and emerging winners from their group comprising local teams from Algeria, Cameroon and the Congo DR.
The Ghana team started last Saturdays match without their top striker Enoch. They created several chances within the first 20 minutes but failed to convert these chances. They conceded their first goal in the 40th minute when a Guinean attacker slipped through an off-side trap to shot pass the Ghanaian goalkeeper Emma in a face to face duel. Down by a goal the Sankofa FC started the second half, with their top striker Enoch, determined to equalise and carry the day. Just 2 minutes into the second half Enoch nearly equalised but was denied this chance by the agile Guinean goalie. Contrary to the trend of play, a free kick awarded to the Guinean about 35 metres from the Ghana post saw a Guinean attacker prolonging the floating ball with a header into the left corner of the post for the second goal. The consolation goal for the Ghanaian team came in the 80th minute with a 25 metre thunder strike from Enoch.
In the other semi-final match Algeria won by 4 goals to nil against Senegal. Ghana therefore plays Senegal for the third position on the 31st of May at the stadium of La Mounede near Pradettes, Toulouse.
The Ghanaian community of Toulouse and its environs are being called to throng the La Mounede Stadium coming Saturday, 4:00pm to cheer the Sankofa FC into victory.

More info : http://www.mandela.c.la