Mankrong Nkwanta Project
In Ghana, any guest entering a house receives a glass of water as welcome present. That shows how precious water is, in a country which doesn't lack water, but where many problems lie in the lack of sanitation and waste management.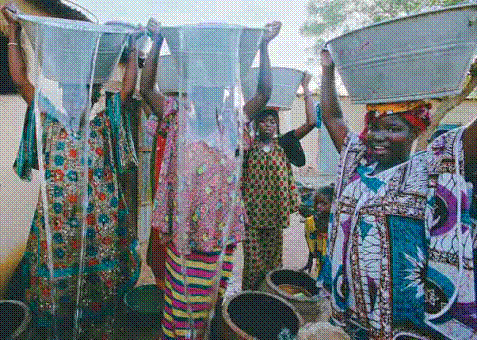 Thus, low hygiene and sanitation standards seriously affect community health, environment, education and economic activities. Diseases linked to faecal pathogens and drinking of untreated or polluted water cause significant health problems to local populations. A lot of these problems could be prevented thanks to personal cleanness (hygiene), and public cleanness (sanitation) by using safe and clean toilets, keeping water sources clean and by evacuating and disposing waste in a more safety way.
Therefore, to reduce negative environmental sanitation impacts and contribute to the improvement of the state of health of the local population, a vital need expressed by the inhabitants of Mankrong Nkwanta during the visit of the delegation of SANKOFA in 2007, the association decided to assist the community through a project of local development.

This project is sponsored by Midi-Pyrénées Regional Council, through its decentralized cooperation programme (call for proposals 2008).
Objective
The main objective is to Initiate and implement, over a period of three years (2008-2010), in partnership with local populations, a program of sensitisation, education and training to improve certain aspects of the environment of Mankrong-Nkwanta based on a better local management of water and waste.
Location of the project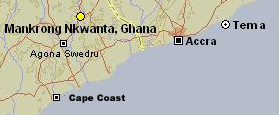 The project concerns a small town of about 3 300 inhabitants, called Mankrong-Nkwanta in the Central Region of Ghana. This community, though supplied with good drinking water, encounters difficulties in terms of management of its water resource and its associated sanitation aspects. Though drinking water is provided by the public pipeline distribution network, not all homes are served or connected, and water is sold to the majority of inhabitants from public stand pipes.
Also, houses having private toilets are rare, whilst the provision of public toilets are inadequate. Municipal / household waste is collected only around the town centre, and disposed off in refuse dumps close to public places. This unsanitary situation generates notable nuisances for the environment, and affects the daily life of the population - public health.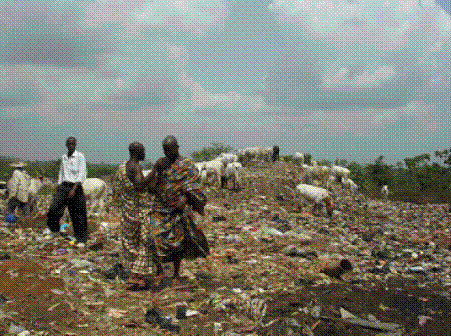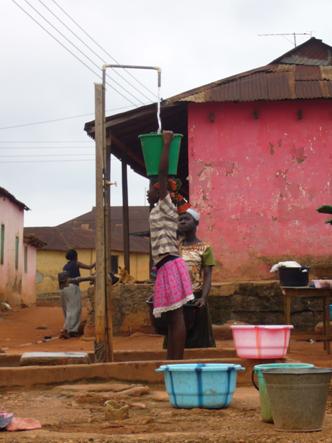 3 steps for the project :
initial phase of sensitisation and education of the population relating to these environmental nuisances,

planning phase of defining basic institutional and infrastructure needs, and realization of envisaged community sanitation organisational structures and equipment,

and finally community evaluation of sustainable environmental measures put in place.
The success of this project will be measured by the level of community participation in the planning and realisation of set up measures, as well as by the possible interest, to follow suit, which will be expressed by the neighbouring communities with similar problems– spell over of experiences beyond the town of Mankrong Nkwanta. The ambition of this project is, in effect, to be able to share and extend experiences to other villages and towns to adopt a similar environmental sanitation management system initiated by local actors.