The crossroad of cultures
The crossroad of cultures stands as a space dedicated to encounters and cultural exchanges, through crossed views on the other's country, by Ghanaians passing by or living in France, by French passing by or living in Ghana. Astonishment, ravishment, disappointment,... No message, just a way to know each other better, understand each other better, learn from each other, and move forward together.
To open this page, we give a free hand to Eugenia Abankwah, a ghanaian student in Toulouse. You will also meet Andrew and Mark, two young Ghanaians discovering the French culture through an international cultural exchange programme.
Eugenia ABANKWAH, from Legon to Garonne (Toulouse river)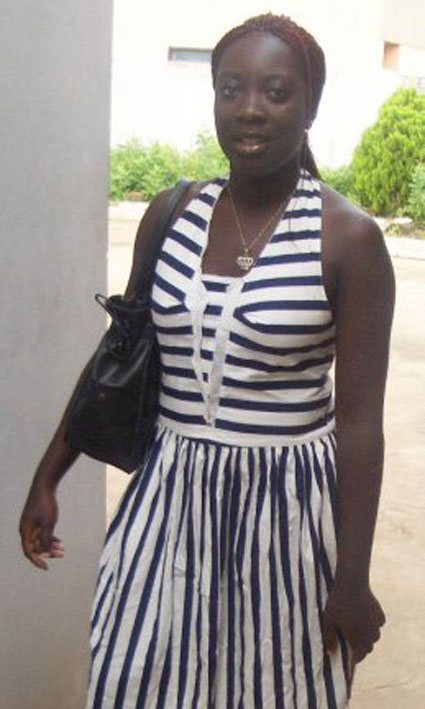 My name is Eugenia Abankwah and I am a language student at 'Langue Onze, école de langues', situated here in Toulouse, France. I am currently a final year student at the University of Ghana where I am studying French and linguistics. However, I am in France firstly to improve my French oral communication skills and then deepen my knowledge of the French culture for a year. My ambition is to become a translator for international organisations.
As I have noticed, Toulouse is a beautiful city with friendly people and a friendly climate. They say life is a big struggle. Staying in France has been a great challenge for me, as I have gone through many difficult situations : loneliness, meeting people with different objectives, difficulty in adapting to my flatmate, going some months on a meagre financial resource looking for a part-time job, etc. It's very easy with these difficulties to be sometimes depressed. Yet by the grace of God I have been able to overcome my problems and even learn lessons from these experiences.
Learning French is not an easy task but with determination and hard work you can achieve any thing. I can now say that I can express myself better than before and I have started thinking in French now. Speaking in class the argot (pigeon French) and the formal and informal French has been an amazing challenge and a rewarding experience. I entreat you all to come and visit or even study here in Toulouse, 'La Ville Rose' (the pink city). It is a great place to find different cultures and to feel at home no matter where you come from.

InterCultural Exchange – Two Ghanaian Youth in France
Jeunesse et Reconstruction, the French branch of the internationally renowned youth exchange organisation International Cultural Youth Exchange (ICYE), is hosting two young Ghanaian students for a one year cultural exchange programme.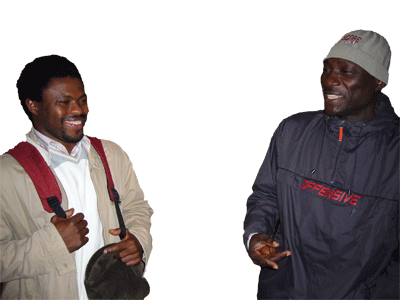 Andrew Benneh and Mark Koffie, who hail from Accra and Sunyani respectively, arrived in France last September, among other youths from the four corners of the world, to begin a year programme introducing them to the various aspect of French cultural life : the people, their history, language, food, social life, working environment, physical and cultural monuments, and other lifestyles.
After a week long orientation workshop and visits in Paris, Mark and Andrew are, since last October, experiencing life in southern France. Mark begun this adventure at Coral (a centre for mental handicaps) at Aimargues near Nîmes. He lived and worked at this centre for three months as a volunteer. It was, so far, the most difficult period since his arrival in France, as the centre was quite secluded, and Mark was not familiar at all with the French language at that time.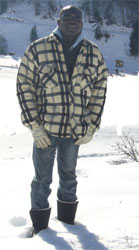 The two young Ghanaians are now being hosted by the Emmaüs community as volunteers, assisting the community in various social and manual works in exchange for accommodation, food, pocket money, and French language course. Mark is socialising with the Emmaus community at Montauban (department of Tarn-et-Garonne), while Andrew is quasi-integrated to the community life at Escalquens near Toulouse. They are gradually adapting to the social life in France, learning french in their daily life (not always academic...) but, for the food… the famous reputation of the french cuisine doesn't impress them at all : too much bread, tasteless sauces, and bleeding meat... They used to feel home-sick until their encounter with SANKOFA and the Ghanaian community in Toulouse, just before last Christmas. So good to speak twi again, so good to share Ghanaian parties with familiar music and spicy meals !
They are of the view that this cultural exchange experience would go a long way to broaden their mental horizon and perception on the way of life in Europe, which is often idealized in Africa. Any 'cultural shock' ? Not in the sense of the phrase however, but the distinction between a developed and a developing country is now clear to them : the former is rich but people don't look so happy (their attitude is even cold at times), while the latter is poor but warm (expressively, by the character of its people). Andrew and Mark wish other young Ghanaians could have the opportunity to experience that 'reality'.