18th March : Ghanaians in Paris thrilled to authentic HipLife !
'Ayekoo' !!! Well done to Gold Coast Events
for making it possible for Franco-Ghanaians and their friends in and around Paris to have a real, live and direct, feeling of Ghanaian hiphop music – dubbed HipLife – in organising a musical concert that brought together local and Ghanaian artists for a memorable performance at the Espace Venise at Sarcelles, a surbub of Paris ! This is the second successful event organised by Gold Coast Events since its creation barely six month ago.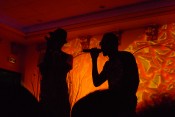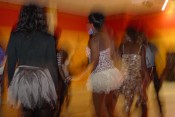 That night's event saw over 300 young people storming the place to catch glimpse of hiplife duo's like Los Grumos (France) and Ruff–N-Smooth (Ghana). The crowd slowly warm themselves up into the night's maiden show with a line-up of artists like Kosa (more reggae style), Lil Ben and Los Grumos who set the stage with some of their hits songs and couple of songs from their latest albums. The main artists for the night Ruff-N-Smooth finally mounted the stage around and set their fans going hysterical with their hit tunes like 'Azingele', 'Swagger'' or 'Naija Baby'…. They trilled their audience to satisfaction for almost 2 hours.
The young and energetic crew of Gold Coast Events is really bound to diversify the Ghanaians in France socio-cultural entertainment scenes and outings with events that highlight our artists and portrays our evolving multi-cultural identity. They are open to all ideas and support in dishing-out creative and vibrant events. Actually, this concert was initiated by 2 French law students who were in Ghana last year for a 3 month practical training session. They discovered and adored Ghanaian highlife and hiplife music – thus adding to and diversifying their cultural horizon.