Food & Drinks
The ghanian food is rich and diverse.

Fufu

(sweet potatoes or cassava balls with a thick soup) is one of the most appreciated meals, like

aduafrol

(soup with beans, fried onions, tomatoes and dry fish), and

kenkey

(fermented corn ball wrapped into plantain leaves cooked in water), to be eaten with fish and a hot stew...


As an appetizer, try this first receipe, you won't regret it !
Groundnut Soup, or
HKATENKWAN
Serve with fufu, or rice.
Ingredients : 1 chicken, cut into pieces 1-inch piece of ginger 1/2 of a whole onion 2 tblsp tomato paste 1 tblsp peanut oil, or other light cooking oil 1 cup onion, well chopped 1 cup tomatoes, chopped 2/3 cup peanut butter 2 tsp salt 2 hot chiles, crushed, or 1 tsp cayenne pepper 1 medium-size eggplant, peeled and cubed 2 cups fresh or frozen okra.
Boil chicken with ginger and the onion half, using about 2 cups water. Meanwhile, in a separate large pot, fry tomato paste in the oil over low heat for about 5 minutes. Add to the paste the chopped onions and tomatoes, stirring occasionally until the onions are clear. Remove the partially-cooked chicken pieces and put them, along with about half the broth, in the large pot. Add the peanut butter, salt and peppers. Cook for 5 minutes before stirring in the eggplant and okra. Continue cooking until the chicken and vegetables are tender. Add more broth as needed to maintain a thick, stewy consistency.


Jollof Rice
Jollof: Rice cooked in a preparation of beef or chicken stew. There are lots of versions of Jollof rice. It is a common West African dish. One I particularly like uses chicken, rice, onion, chopped tomatoes, and a bunch of fresh thyme. Saffron added is also good as a variation.
Ingrédients : 2 1/2 to 3 lb broiler-fryer chicken, cut up 2 cans (16 oz each) stewed tomatoes, 2 cups water, 2 tsp salt, 1/4 tsp pepper, 1 cup uncooked regular rice, 1/4 lb fully cooked smoked ham, cubed (3/4 cup), 1/4 tsp ground cinnamon, 1/4 to 1/2 tsp ground red pepper [or more to taste], 3 cups coarsely shredded cabbage, 8 oz green beans (1 pkg, 10 oz, frozen French-style green beans, thawed can be substituted for fresh), 2 onions, cut into 1/2-inch slices, 1/2 tsp salt.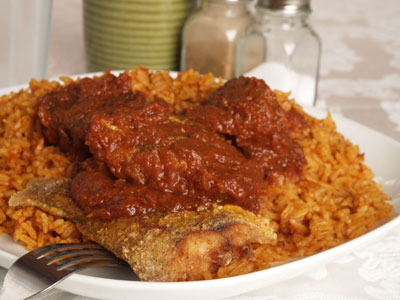 Heat chicken, tomatoes (with liquid), water, 2 tsp salt and the pepper to boiling in 5-quart Dutch oven; reduce heat. Cover and simmer 30 minutes. Remove chicken. Sttir in rice, ham, cinnamon and red pepper. Add chicken, cabbage, green beans and onions. Sprinkle with 1/2 tsp salt. Heat to boiling; reduce heat. Cover and simmer until thickest pieces of chicken are done, 20 to 30 minutes.
source : www.ghanaweb.com