National symbols of Ghana
Coat of Arms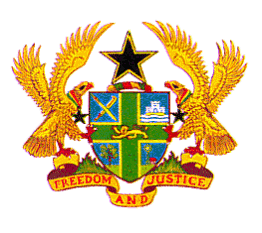 The coat of arms of Ghana was introduced on 4 March 1957 by Elizabeth II.
It shows a blue shield, which is divided into four parts by a St George's Cross with a golden edge. In the middle of the cross there is the golden lion of the United Kingdom of Great Britain and Northern Ireland. This symbolizes the close relationship of Ghana to the Commonwealth and the Kingdom.
The first part, on the upper left shows a sword, known as a okyeame, which is used at ceremonies. It is a symbol for the regional governments of Ghana, while the area to the right, which shows a representation of a castle on the sea, the presidential palace in Accra on the Gulf of Guinea, symbolizes the national government. The third part of the shield shows a cacao tree, which embodies the wealth of Ghana. The fourth and last field - on the lower right - shows a gold mine, which stands for the richness of natural resources in Ghana.
Upon the shield there are beads with the national colors red, green, and gold, which the flag of Ghana also bears.
Above that, there is a black five-pointed star with a golden border, symbol for the freedom of Africa. Holding the coat of arms are two golden eagles, which have black stars on a band of the national colors hanging around the neck.
They are perched on a motto ribbon, which bears the national motto of Ghana : FREEDOM AND JUSTICE.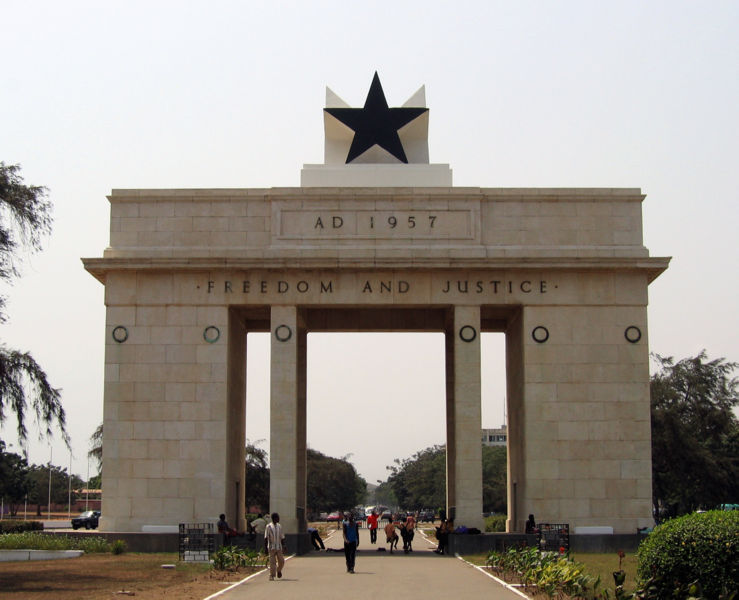 Independence Arch, in Accra
bearing the motto "Freedom and Justice"

Flag of Ghana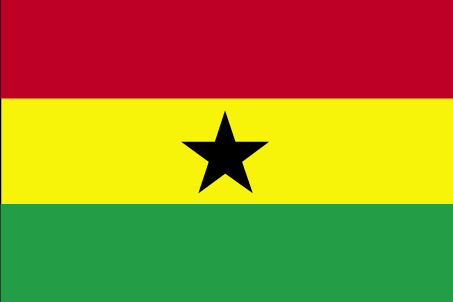 The color Red commemorates those who died or worked for the country's independence ;
The color Gold was influenced by the mineral rich nature of Ghana lands ;
The color Green was chosen because Ghana lies in the tropics and is blessed with rich vegetation ;
Then the five pointed lone star which is the symbol of African emancipation and unity in the struggle agianst colonialism.

National anthem : "Hail the name of Ghana"
God bless our homeland Ghana,
And make our nation great and strong,
Bold to defend forever
The cause of Freedom and of Right.
Fill our hearts with true humility
Make us cherish fearless honesty,
And help us to resist oppressors' rule
With all our will and might evermore.
Hail to thy name, O Ghana
To thee we make our solemn vow;
Steadfast to build together
A nation strong in Unity;
With our gifts of mind and strength of arm,
Whether night or day, in the midst of storm,
In every need whate'er the call may be,
To serve thee, Ghana, now and evermore.
Raise high the flag of Ghana,
And one with Africa advance;
Black star of hope and honor,
To all who thirst for liberty;
Where the banner of Ghana free flies,
May the way to freedom truly lie
Arise, arise, O sons of Ghanaland,
And under God march on forevermore.